From the nano aquarium to the top-class room divider - we realize your ideas! You determine the scope of the order yourself. We would also be happy to offer you the base cabinet that suits your aquarium, exclusive trimmings and, of course, filtration. If you wish, we can also take care of the installation of your aquarium!
EXPERTISE IN AQUARITICS
Aquarium experts for years - Welcome to Schuran Seawater Equipment! Our origin lies in plastics processing; our passion is the underwater world; our fascination is due to technology and the constant search for new challenges.
This combination makes our company unique in its branch!
We process thermoplastics using the latest production techniques. Deep-drawing machines, five-axis CNC robots and many other computer-controlled machines enable a wide range of manufacturing options. From brochure stands to extravagant aquariums to complex workpieces for medical technology or vehicle construction.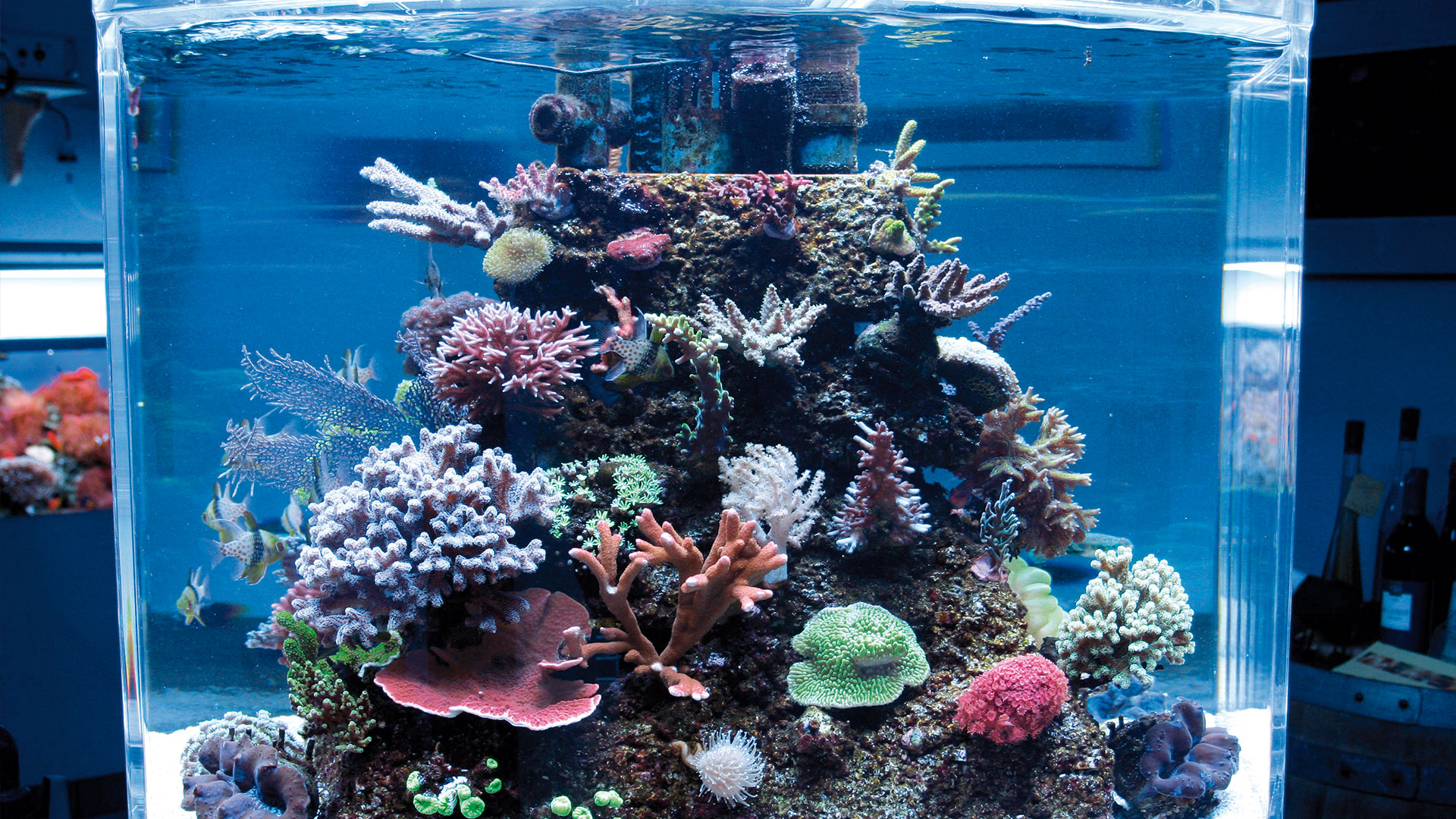 The desire to travel to exotic underwater worlds, the enthusiasm for sustainable systems and the fascination for the material Plexiglas have prompted us to build the first seawater aquariums made of Plexiglas for our business premises. At the same time, we developed the first protein skimmer for seawater filtration in the early 1990s in Germany in cooperation with the Jülich Research Center. The Aquaflotor principle quickly caught on and is now the first choice for large aquariums. Our Aquaflotor protein skimmers can be found in zoos and aquariums worldwide. The product range has been constantly improved and supplemented by further devices for water treatment, also in the freshwater sector. In addition to the devices for professional use, another product series was also developed according to the same principles for the hobby area. Today, our Jetstream 1 is one of the best-selling calcium reactors in the world. Convince yourself of our competencies and make your wishes our tasks! We are pleased about your inquiry.
Cylinder tank
AFTER ASSEMBLY COMES THE STOCKING In cooperation with our specialists, we will select an individual stock for your aquarium with you. We are always at your side to advise you. We work closely with sustainable farms and breeders from all over the world. All built-in components result in a perfectly coordinated individual concept! With water that has already been brought in, we shorten the adaptation of the biology of your aquarium. The coral offspring that are already used to the water and fish can move directly into your aquarium. A new sustainable ecosystem is created within a few days. Even after the completion of the aquarium, we remain at your disposal at any time.
Special form
CUSTOMIZED INDIVIDUALITY
Make your challenges our tasks! We are not only experts in aquarium and filter construction, our team also includes ambitious cabinet makers who are just waiting to be challenged by you. There are no limits to the form, material and even the function of the aquarium furniture. If desired, we can also come to your home and develop an aquarium concept that fits perfectly into your home.

We look forward to every challenge!
Round front
CREATE ATMOSPHERE!
Every aquarium has its own challenge. You will look in vain for off-the-shelf aquariums with us! Everything starts with the idea. Even the first drafts show you what attractive solutions there are. After your design approval, we really get started. Then it goes to the finishing touches and the construction of the aquarium. Every bend, every edge, every glued seam is meticulously planned.
Products for Seawater
You can find an overview of our standard products that we sell through retailers here.
If you have any questions about our products, we look forward to hearing from you!